TEBIS
TEBIS staat voor Translate Electronic Bus Information System en is grofweg gezegd een 'vertaal' apparaat.
Het ontvangt het signaal van een IBIS master, bijvoorbeeld een bediendeel of boardcomputer die teksten naar een filmkast stuurt.
De TEBIS 'vertaald' de bron naar een ander IBIS dialect, zodat displays bestuurd kunnen  worden die anders niet aangesloten zouden kunnen worden op de gebruikte bron.
Hieronder een aantal foto's van bussen uitgerust met een TEBIS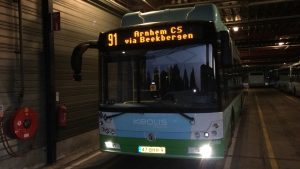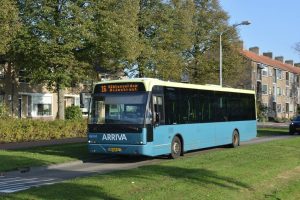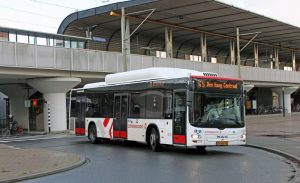 De TEBIS kent een uitgebreide aansluit mogelijkheid. De voedingsspanning mag tussen de 21 en 32 volt liggen, en is beveiligd tegen ompolen.
De ingang kan gekozen worden als TTL, RS232, RS485/422 of IBIS.
De uitgang kan gekozen worden als TTL, RS232, RS485/422 én IBIS.
De TEBIS kan ook 'passief' werken. Dat wil zeggen dat we er niks 'vertaald' wordt, maar dat enkel het signaal omgezet wordt van bijvoorbeeld RS232 naar IBIS of andersom. Op deze manier is de TEBIS ook te gebruiken als modem voor bijvoorbeeld onderzoek naar IBIS telegrammen. Hiervoor leveren wij de nodige ondersteuning en software.